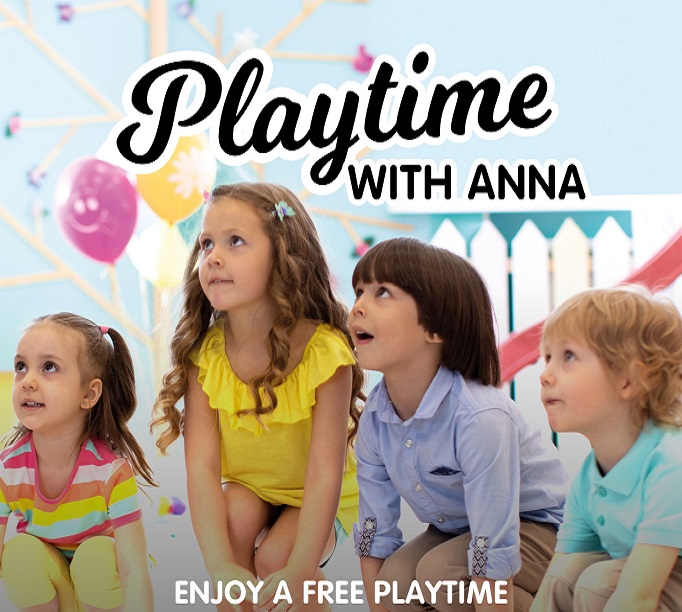 Playtime with Anna
Each Tuesday join our free children's playgroup for an hour of fun, music, stories and craft! Each week there will be a different theme which is perfect for kids aged 5 years and under. Bookings are essential!

All the fun kicks off on Tuesday 20th July 2021 and will run each week during school terms.
Times : 10.00am to 11.00am

Click here to reserve your spot

COVID-19 SAFETY PLAN
A COVID-19 Playtime with Anna Safety Plan has been developed in accordance with the recommendations of the NSW Government's Covid-19 Safety Plan and is relevant for Bateau Bay Square. Plan completed by Anna Marriott on behalf of Inspired Play. For further details please read the disclaimer when booking with Event Brite.

PLAYTIME WITH ANNA - WEEKLY THEMES
20th July : Fun Learning Numbers
It's all about 1, 2, 3's this week….in fact we'll go all the way to 10 (and beyond for the adventurous!) Join Anna and have fun learning through puzzle games, song and rhymes. We'll even learn how to write some numbers. Don't miss the story and cool caterpillar counting craft activity.
27the July : Favourite Fruits and Vegetables
Learn all about delicious greens through song, games, a story and fun activities this week at Playtime With Anna. Try guessing what vegetable is in the bag and see if you can remember which fruit is missing from the tray? Enjoy crafting a pumpkin, peach or apple. The little ones may even be inspired to try a new food this week!
3rd August : Pirate Playtime
Aa-arghhhh me hearties, Playtime will be all about Pirates this week. Join Pirate Anna for an hour of fun pirate games, entertainment, craft and a story. Feel free to come dressed as a pirate, otherwise enjoy crafting your own pirate patch and hook before we walk the plank!
10th August : Favourite Sports
Work on your throwing and catching skills at Sporty Playtime this week. We'll be making our own balls out of paper, having fun with movement activities and enjoying learning about different sports that we can play as we grow. We'll then head to the craft table to craft medals to celebrate our unique awesomeness!
17th August : Fun With Shapes
There are so many shapes all around us! We'll be learning to recognise different shapes this week through play. Enjoy activities, story and craft as we explore together.
24th August : Imagination With Boxes
We'll be letting our imaginations run wild and having fun inventing things with recycled boxes this week. Lots of fun with music, activities, story and craft to help expand the children's imaginations (and the parents' as well!)
31st August : Celebrating Father's Day
Join Anna at Playtime this week as we celebrate all of the special male role models in our children's lives. We'll be chatting about our favourite places to go, favourite activities and may even head out on a pretend boating adventure. Make Dad or another male a special craft activity that you can give to him on Father's Day.
7th September : Welcome Spring!
Ah the first full week of Spring has arrived! Bring your sunshine to this week's session and enjoy the warmth that comes with enjoying an hour of music, games, story, craft and laughter with your child all focused around the joys of the new season.
14th September : Our Amazing Human Bodies
We'll be getting familiar with our bones and parts of our bodies today from our heads to our toes through fun songs. Brush up on your health and hygiene as we learn about brushing teeth and getting nice and clean in the bath. We'll also explore our hearts and feelings and find what brings each of us joy….and all by having