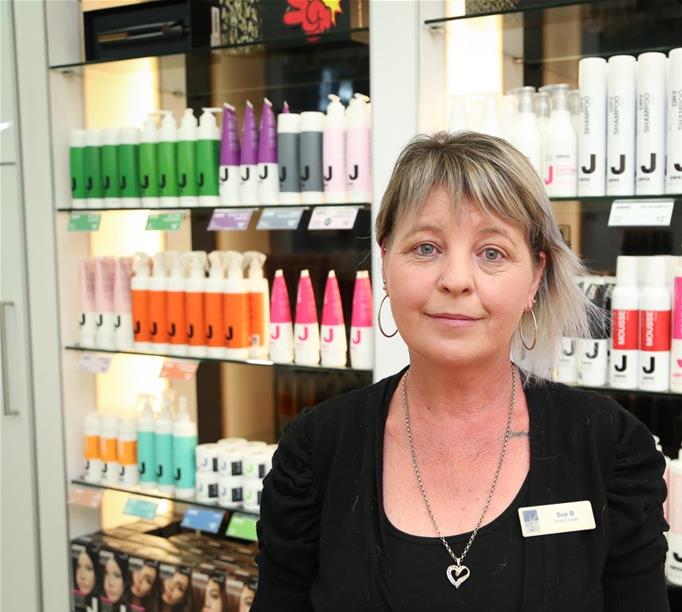 Sue
Tell us a bit about your shop or service: At Just Cuts we do a range of style cuts amd sell products for every clients needs.

What's in season or really popular right now with shoppers? Smooth and Groom & Platinum Shampoo and Conditioner products!

How long have you been working here? I have worked for Just Cuts for 5 years now.

Are you a big or small crew, how many of you working there? We have a team of 5 friendly stylists.

What do you reckon is best part of your job? Client interaction. Making people feel better about having a haircut which can sometimes feel like a chore.

What are your interests in life? Any hobbies, interests or mad obsessions? Drag Racing, V8 Supercars, speedways and motobikes are my thing.

So, do you think your shop or service helps make shoppers' lives easier? If so, tell us how: Yes as we have a no booking service so all you have to do is walk in - easy!

Do you have local customers you know by name, or like to have a chat with? We have a lot of locals that come in on a regular basis.

What is the funniest or most unusual request you've ever had from a customer? We get asked regularly if we provide waxing for men, we don't offer this though!

What do you think makes Singleton Square a great community and/or good place to shop? The friendly environment that all the retailers and customers provide!

Name two things you like most about working at the centre?
Centre Management are always so helpful and keeps us retailers up to date with everything happening in the centre. Also I love how friendly all the other retailers are and how we all look out for each other.

Do you have a fave time in the centre and if so why? Definitely Christmas! It's fun and festive!